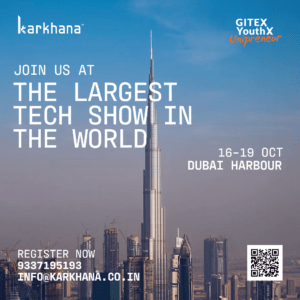 GITEX Global makes a comeback with its 43rd Edition this  October 2023, the world's largest and most inclusive tech event following its record-breaking edition in 2022. Organized by the visionary minds at North Star, this grand event was eagerly anticipated. A convergence of brilliance and breakthroughs awaited, and one exceptional team stood out among the crowd, leaving an indelible mark on the global stage. 
This year along with the tech protagonists, inventors, academia, researchers, and developers, GITEX 2023 will also supercharge the epic global race for AI supremacy, manifesting and translating gen-now tech into business solutions that are shaping societies and fast-tracking future urbanism.
Powered by Karkhana, Team Twinverse from SOA Fablab emerged triumphant. Their unwavering dedication to WEB 3 and the AI-based Virtual World platform led them to clinch the SuperNova Challenge title. Among 500+ global ideas, they seized the Youth Entrepreneur Award at Gitex Global 2022 in Dubai, driving them closer to realizing their potential.
Just as we witnessed last year how Karkhana's mentorship empowers young minds; 
Following this triumph, Karkhana rebounds in the 43rd edition of GITEX as the 'India Innovation Partner' as its partners with GITEX YouthX UniPreneur for 2023.
Under the banner of GITEX Global, powered by Expand North Star Dubai and Unipreneur Inc., GITEX YouthX UniPreneur provides an exclusive platform for nurturing entrepreneurship, leadership, and innovation among students, institutions, and youth startups. It's an opportunity to exhibit alongside global giants, gain mentorship, participate in live contests, showcase ideas on stage, and forge a path to future leadership.
In its 3rd edition, the UAE's premier youth entrepreneurship, intrapreneurship, and leadership event are back, emphasizing youth-led sustainable impact. Event highlights include Sustainable Innovation, Empowerment Hub, Innovation Empowerment, Educational Evolution, Engaging Sustainability, and Collaborative Catalyst.
Why One Should Exhibit at YouthX?–
With YouthX, young makers get the chance to join the global tech stage,

network opportunities,

innovation cohort,

exclusive investor access,

USD 200,000 Supernova Challenge prizes,

academic exposure, branding, student pitch,

industry link, mentorship,

alliance access, pre-event priority, and

VIP passes for amplified engagement.
Karkhana looks forward to this new partnership with GITEX YouthX UniPreneur 2023 as a symbol for fostering young creative maker minds of India and catering to them the opportunity to bring their ideas one step closer to the Global stage.