In the heart of Dubai, where the future takes center stage, GITEX Global unfolds its 42nd Edition, with innovation under the theme of 'Leading the Digital Future.' The event was set for October 2022. Organized by the visionary minds at North Star, this grand event was eagerly anticipated. A convergence of brilliance and breakthroughs awaited, and one exceptional team stood out among the crowd, leaving an indelible mark on the global stage.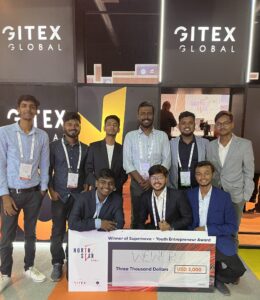 The event itself was a catalyst, igniting sparks of aspiration and motivation. Amidst the whirlwind of innovation, Karkhana Makerspace's commitment to nurturing groundbreaking talent shone brightly.
This premier startup expo brought together innovators and unipreneurs from around the world. GITEX Global serves as a platform to foster groundbreaking talent, promoting knowledge exchange, networking, and the development of a resourceful and skillful ecosystem. 
Powered by Karkhana Makerspace, Team Twinverse; a group of young makers from SOA Fablab emerged as true unipreneurs, weaving their dreams into reality. The team has been working on WEB 3 and an AI-based platform for Virtual World. Their voyage to GITEX Dubai was no ordinary journey; it was a testament to their unwavering spirit and relentless pursuit of excellence. As they shared the spotlight with fellow startups from Startup Odisha, their presence ignited the arena with promise and potential.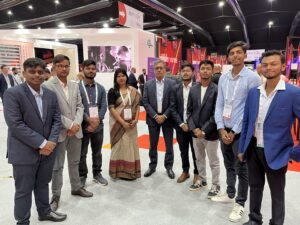 The spotlight's embrace was not only on the title of the Supernova Challenge the team received. Mr. Omkar Rai, the esteemed Executive Chairman of Startup Odisha, applauded the team for their exceptional work and captivating presentation. Under the able guidance of Mr. Siddharth Bhatter and Mr. Nandan Singh, the team harnessed their collective ingenuity to participate in the SuperNova Challenge.
At GITEX GLOBAL, amid a cluster of innovators from around the globe, Team Twinverse achieved a triumph. Their victory in the Supernova Challenge – Youth Entrepreneurs Award was nothing short of spectacular. Among over a thousand innovators, these young minds stood tall as India's sole champions. Their achievement not only promised success but also resonated as an inspiration for generations to come.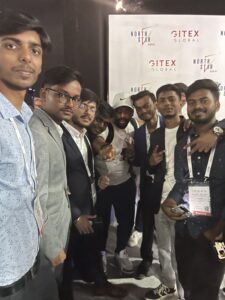 Dedication, determination, and countless hours of unyielding effort paved the path to this pivotal moment. With the world as their canvas, Team Twinverse painted a masterpiece of Indian innovation, showcasing their potential with unparalleled zeal. Their journey was more than just a personal victory; it was a  call to conquer global challenges and an embodiment of the unyielding spirit of innovation.
Their triumph echoed through the corridors of GITEX Dubai, woven with the threads of dedication and resilience;  that would inspire and empower the future tech leaders of tomorrow to dream beyond horizons and strive for greatness. Team Twinverse's journey was more than an event; it was a revelation that will inspire generations to come, reminding us all that the future is in our hands, waiting to be shaped by the innovators and dreamers who dare to push the boundaries of possibility.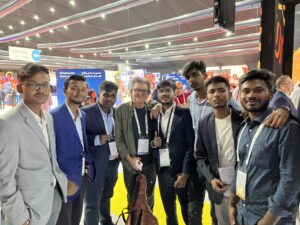 In the end, Karkhana stood as a proud pillar, nurturing knowledge and ideas that kindle positive change. Fostering an ecosystem that's not only resourceful but also inculcates skill and passion. 
As the curtain fell on GITEX Dubai 2022, the echoes of Team Twinverse's victory continued to resound. Their triumph was not just a personal achievement; it was a beacon of hope for aspiring innovators worldwide. A reminder that innovation knows no bounds, and with the right spirit, anything is achievable.